When JRR Tolkein conceived the Hobbit trilogy and the quaint under-hill house in which Bilbo Baggins lived, he probably gave little throught to how to keep his lead character warm in Winter. After all, Hobbits wear cosy waistcoats and have furry feet to keep them snug. And the open fire, flickering in the grate would give enough heat to ward off the winter chill.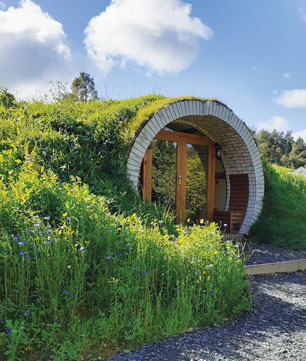 But what about insulation? Ah yes, insulation.
Just like in the days when the majority of the UK's housing stock was built – little thought was given to home insulation back in Baggins's time.
Now, fast forward to the 21st Century and things have changed – especially for Matthew Wright of Hobbit House Ltd, builders of what must be the coolest garden structures in middle earth.
He describes his Hobbit Houses as "durable and versatile garden under-buildings which are perfect for everything from entertainment spaces, to yoga rooms, home offices, glamping pods and just about anything you can imagine!"
If you take a look at the Hobbit House website you will see what he means. His company designs, builds and installs the most amazing, authentic looking under-hill Hobbit Houses that perfectly reflect Tolkein's concept of the Shire –
a rural idyll that was once a corner of Worcestershire, close to where the author grew up.
Hobbit Houses are custom made below ground buildings constructed to an incredibly high standard of fit and finish. However, building them to modern day specification brings its own set of challenges, as Matthew Wright explains.
"Hobbit House structures are large diameter polyethylene cylinders that have a double-thickness wall in the form of a tubular spiral. This twin-wall spiral structure gives excellent strength and rigidity and is completely waterproof. On the other hand, it is difficult to insulate" says Matthew.
He continues. "Clearly, conventional internal insulation such as mineral wool and the like would be out of the question as it would eat into the living space area. We also tried polystyrene beads, blown into the spiral. This gave us reasonably good insulation levels but we couldn't be sure of complete fill around the spiral cavity".
Recently, the Company won a contract to build a Hobbit House for a school in Birmingham where the structure was to be used as a children's underground library. For this project, they needed to achieve an even higher level of insulation.
According to Matthew Wright, a few options were considered but none satisfied the performance criteria or were able to work with the complex curvature and structural intricacies of Hobbit House construction.
A solution was found through spray foam insulation specialists Icynene.     Icynene proposed its Icyfoam Fill, a cavity-fill system of high performance, foam-injected insulation.
Icynene Icyfoam Fill is a two-part system where the components come together at the tip on an injection lance. The chemical reaction creates a foam which expands one hundred-fold in seconds, completely filling the cavity and sealing tiny gaps and structural voids, eliminating any potential cold bridging.
Appropriate U-value calculations were undertaken by Icynene technicians at the Hobbit House factory in Mansfield. Icyfoam Fill was shown to exceed the required levels and foam was injected through small holes drilled through the polyethylene skin of the structure, completely filling the 110mm wide spiral cavity of the 3.0m diameter cylinder.
According to Icynene, the foam is so 'searching' in nature that it can also be used in partially filled cavities where previously installed insulation systems may have failed or not completely filled the inter-leaf voids.
Icynene Icyfoam Fill is a closed-cell insulation medium which had originally been developed in Canada to cope with their extreme winter temperatures.
Unlike its open cell cousin FoamLite, which uses water as its blowing agent that creates an air filled cellular structure which allows the treated building to 'breathe naturally', Icyfoam Fill uses an HFO blowing agent with an extremely low Global Warming Potential (GWP2) and an Ozone Depletion Potential (ODP of 0 (Zero).
This closed cell formulation completely seals the structure, helping to prevent air and moisture transmission and provides outstanding levels of insulation where breathability is not a requirement.
The insulation of the Library Hobbit House was completed in less than a day and, according to Matthew Wright, the combination of the Icynene insulation and the soil and grass roof which completed the installed structure makes this the most thermally efficient project to date.
All in all, these are the coolest garden buildings you could ever think of. Cool in summer, and cosy warm in winter. The very best of both worlds – real and imaginary.
Icynene
Tel: 07851 854860