SuperFOIL
Rethinking Roof Construction: Creating a SuperROOF

We know choosing the correct insulation is an integral part of the long-term success and energy efficiency of your project. For this reason Superfoil has a team of highly trained experts who are there to help you.
Their experienced team will work with you to ensure your project achieves the best results possible. Whether you are a self builder with no previous experience or a busy architect making sure that you are keeping up with all the newest building regulations, Superfoil can help.
Superfoil will save you space, time and money on your project.
Presentation Details:
Rethinking Roof Construction – Creating a SuperROOF
Modern methods of construction require modern methods of insulation. This CPD session explores the commercial, practical and performance benefits you can achieve using a 'SuperROOF' solution
You can watch this presentation online for free. You will be sent a CPD certificate after watching the video presentation.
Register your details using the online form and get instant access!
This presentation is provided by Superfoil.
Boulder Business Park
Pioneer Way
Lincoln
LN6 0QR
Tel: 01636 556779
Website: www.superfoil.co.uk
Email: [email protected]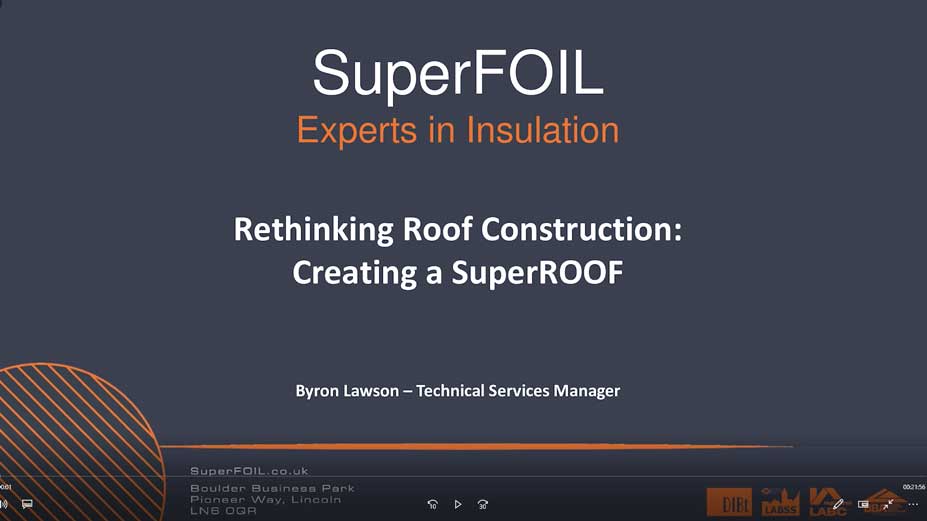 Simply enter your details into the form below to register and watch this presentation. It's completely free!
Please note: Your details will be passed onto the CPD provider.