Cupa Pizarras
Specifying Natural Roofing Slate

Slate is a product with unmatchable technical properties that adapts to any project, always providing considerable added value. It gives any roof or facade an inimitable, timeless, unchanging appearance. Its elegance and personality confer a unique character. If you add Cupa's exhaustive quality control, their traditional know-how and the constant search for new, more efficient and sustainable production processes to its extraordinary natural properties, you get a truly unique material.
Presentation Details:
This CPD from Cupa Pizarras identifies the key design and technical features needed when specifying natural slate. The presentation explains the importance of traceability, testing and classifications to ensure confidence when selecting natural slate.
You can watch this presentation online for free.
You will be sent a CPD certificate after watching the video presentation and completing the request form.
Register your details using the online form and get instant access!
This presentation is provided by Cupa Pizarras.
Website: www.cupapizarras.com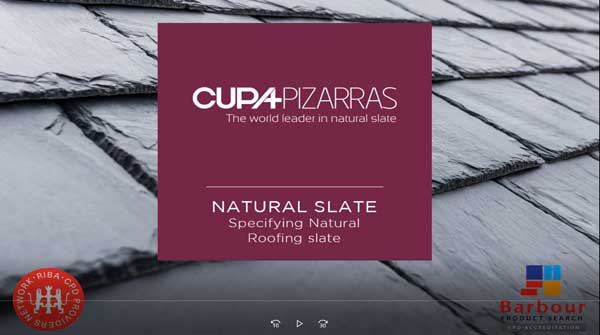 Simply enter your details into the form below to register and watch this presentation. It's completely free!
Please note: Your details will be passed onto the CPD provider.