When Approved Document B (ADB) was updated last year, several changes came into force which affect flat roofs, including the National Classification system being replaced by European standards. While this move has simplified classification by introducing a single BROOF(t4) rating for the UK market. it's also sparked some confusion in the wider context of fire protection. Will Wigfield, Flat Roof Product Manager at ROCKWOOL, explains the technicalities behind the testing protocols and shares best practice advice on how to minimise fire risk in flat roofs.
The National Classification system (BS 476-3:2004) was the principle determinant of external fire performance in roofs for many years. While the European Classification system previously ran alongside it, the latest changes to ADB saw the National Classification become obsolete, with EN 13501-5 'Fire classification of construction products and building elements – Part 5: Classification using data from external fire exposure to roof tests', now the main reference point for assessing fire penetration and spread of fire in external roof applications.
For roofing contractors, understanding what these changes mean in practice is crucial for ensuring relevant regulation compliance and minimising fire risk, which starts with clarifying what the new classification means in the context of fire performance.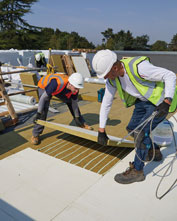 Categorising change
Under the National Class, the highest fire performance which could be achieved was rated as AA, AB or AC – denoting that the use of a flat roof system was unrestricted and could be applied anywhere on the roof.
EN 13501-5 is now the recognised standard for indicating the performance of a flat roof system when exposed to fire from an external source. Applicable to Approved Document B, Test 4 of DD CEN/TS 1187:2012 provides the method for evaluating the performance of a roof under the conditions of thermal attack, which includes external fire spread and penetration by fire.
While the highest possible performance is classified as BROOF (t4), the equivalent of AA, AB or AC under the previous National Classification, it does not determine the reaction to fire of individual components – which means it provides no indication regarding the material's combustibility.
A simple and straightforward way to determine the combustibility of a building product is by checking its Euroclass reaction-to-fire rating. A non-combustible material is defined by a Euroclass rating of A1 or A2-s1, d0.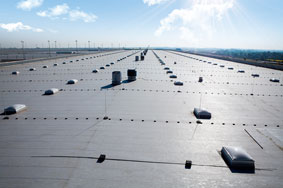 Reducing risk
The testing protocol of EN 13501-5 does not assess the performance of individual components. It determines how a flat roofing system – the complete build-up – will perform when exposed to an external file.
This means that BROOF (t4) cannot be used to verify the combustibility of products used within the overall system. In fact, roof systems incorporating combustible insulation products as low as Euroclass F can achieve a rating of BROOF (t4).
Moreover, BROOF (t4) does not provide any indication as to how the roof system will perform when exposed to fire from inside the building – which may fuel a fire and emit toxic gasses and smoke.
As such, BROOF (t4) classification does not automatically allow such roof systems to be continued uninterrupted over compartment walls, where it is necessary for the deck material* to be Euroclass A2-s3, d2 or better.
The Euroclass combustibility rating of an insulation product can easily be verified by requesting a Declaration of Performance certificate from the manufacturer.
Classifying compliance
Regulation changes have made it increasingly complex to navigate routes to compliance. For example, the ban on combustible materials in external walls of relevant buildings 18m above ground level, has defined balconies and upstands as 'attachments'. This means the insulation used in these applications must be A2-s1 d0 or better. A BROOF (t4) rating would not be sufficient to determine the required performance in this instance.
ADB also specifies that roof coverings carried over compartment walls need to be on a deck of non-combustible material. To comply with the regulations, these applications demand insulation with a non-combustible Euroclass rating.
In a bid to reduce fire risk and minimise room for installation error, many roofing contractors are starting to adopt a simplified approach to insulation design – using a non-combustible material across the whole flat roof area. This strategy can often result in efficiency gains on-site as it removes the need for close coordination associated with using a combination of different insulation materials.
With the ban on combustible materials expected to be extended even further through the building envelope, the transition to non-combustible specifications will not only make flat roofs safer today, it will also futureproof designs for tomorrow.
Rockwool Ltd
http://www.rockwool.co.uk/fifthfacade