SieMatic
Domestic Kitchen Design

SieMatic offers unique kitchen design, perfect workmanship and individual room solutions – discover space for your ideas in the kitchen.
Presentation Details:
This CPD aims to provide an overview of domestic kitchen design. It will start from the beginning, looking at the history of the kitchen, the kitchen market, intricacies for the manufacture, door finishes, worktop options, appliances, sustainability, today's clientele and specification, and consumer considerations including inclusion, wellness and biophillic design. It will later continue to explore design and planning, anthropometrics and ergonomics including layouts. By the end of the seminar you should have a greater understanding of:
– Furniture construction, and material characteristics of different door options
– Pros and cons of different worktop finishes
– Principles of kitchen design, room planning and dimension considerations
– Today's clientele requirements
– Future trends
You can watch this presentation online for free. You will be sent a CPD certificate after watching the video presentation and completing the request form.
Register your details using the online form and get instant access!
This presentation is provided by SieMatic.
Website: www.siematic.com/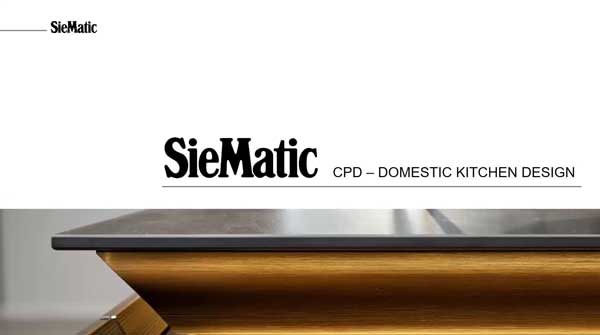 Simply enter your details into the form below to register and watch this presentation. It's completely free!
Please note: Your details will be passed onto the CPD provider.