Schott UK Ltd
A clearer view on glass specification CPD

As one of the leading specialty glass companies in the world, SCHOTT has risen from a small glassworks in Jena, Germany to a global corporation with production and sales units in 34 countries. With over 16,500 employees of almost 100 nationalities, the company places a huge importance on diversity, collaboration, and innovation.
Presentation Details:
Join our free online learning session. It aims to increase your knowledge of an often unnoticed life saving product that plays an important part in our daily lives. Schott's CPD an introduction to Fire-Resistant Glazed Systems provides technical and regulatory information to enable your project requirements to be achieved successfully as well as the importance of correct design and installation of Fire Resistant Glazing Systems.
Register your details using the online form and get instant access!
This presentation is provided by Schott UK Ltd.
Science Centre Pd106
Wolverhampton Science Park
Glaisher Drive
Wolverhampton
WV10 9RU
Website: www.schott.com/en-gb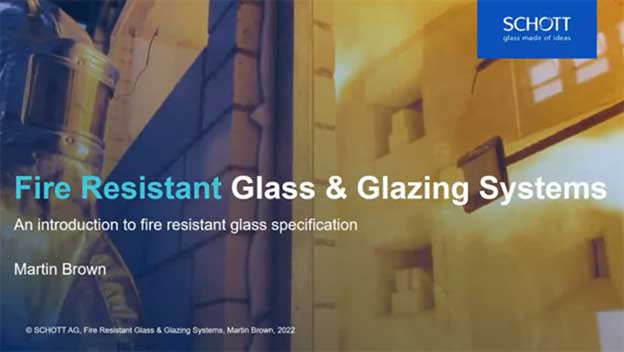 Simply enter your details into the form below to register and watch this presentation. It's completely free!
Please note: Your details will be passed onto the CPD provider.