MiTek Industries
A CPD guide to Posi-Joists & Posi-Rafters
Posi-Joist from MiTek Industries combines the lightness of timber with the strength of the Posi-Strut steel web to produce a floor and roof system allowing you to span far greater distances than would be possible with alternative timber products.
This gives you unequalled design freedom across a wide range of applications for both floor and roof in domestic, industrial and commercial applications. The Posi-Joist allows a variety of internal room layouts within an external shell due to its clear spanning capabilities.
Easy access for the installation and maintenance of services in the floor zone is the clear advantage of the Posi-Joist system, and with the ever increasing need for MVHR (Mechanical Ventilation and Heat Recovery) systems, Posi-Joist provides a perfect and simple solution that just isn't possible with alternative solid timber products.
Presentation Details:
What is a Posi-Joist and why should they be specified? What is the cost, alternatives, span-ability, sound & fire, details, Part L, vibration, whole life costing, and where to go from here.
You can watch this presentation online for free. You will be sent a CPD certificate after watching the video presentation.
Register your details using the online form and get instant access!
This presentation is provided by MiTek Industries.
MiTek House, Grazebrook Industrial Park, Peartree Lane, Dudley, West Midlands, DY2 0XW
Website: www.mitek.co.uk
Email: [email protected]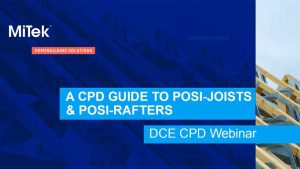 Simply enter your details into the form below to register and watch this presentation. It's completely free!
Please note: Your details will be passed onto the CPD provider.