Groundbreaker 2
Save water? Save energy? Save money? Save the planet?

With a track record now spanning 20 years, we are proud to offer our practical and cost-effective solutions to the water and construction industries.
Presentation Details:
Groundbreaker is probably the only truly SUSTAINABLE water management system, eliminating the need for joints on PE pipe and therefore creating a leak free system.
The control valve and water meter are located at the point of delivery, easy to operate and read
– the perfect location for eyeball or in-home utility reading.
You can watch this presentation online for free.
You will be sent a CPD certificate after watching the video presentation and completing the request form.
Register your details using the online form and get instant access!
This presentation is provided by Groundbreaker.
3 Fairways
The Common
Stuston nr Diss
Suffolk IP21 4AB
Website: www.groundbreaker.co.uk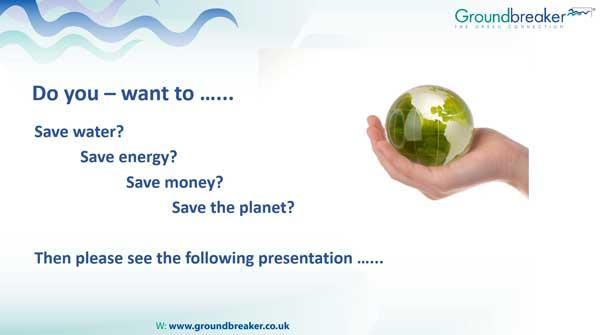 Simply enter your details into the form below to register and watch this presentation. It's completely free!
Please note: Your details will be passed onto the CPD provider.