DuPont Corian
Interior Design Innovations with Corian Solid Surface

Corian® Solid Surface is an advanced composite product used as an architectural and design material in a variety of residential and commercial applications. Corian® Solid Surface offers design versatility, functionality and durability. Supplied in sheets and shapes, it can be fabricated with conventional woodworking tools into virtually any design. It is the original Solid Surface material made only by DuPont. It is widely accepted as a material for countertops, vanity tops, tub/shower walls, kitchen sinks, vanity basins and laboratory bench tops in numerous markets including lodging, healthcare, banks, boutiques, restaurants.
Presentation Details:
This CPD will focus on: Introducing DuPont & Shelter Solutions; Introducing Corian Design; What is Corian Solid Surface? Features & benefits of Coprian Solid Surface; Corian Solid Surface Emea colour correction; Route to market; Who are solid surface fabricators?; Linear fabrication principles; Shape fabrication principles; Designed for hygiene; Curved fanrication – Thermoforming Corian Solid Surface; Exploring new innovations in automated 3D fabrication; Prescription guide for architects and designers; Questions & Answers.
You can watch this presentation online for free.
You will be sent a CPD certificate after watching the video presentation and completing the request form.
Register your details using the online form and get instant access!
This presentation is provided by DuPont Corian.
Website: www.corian.uk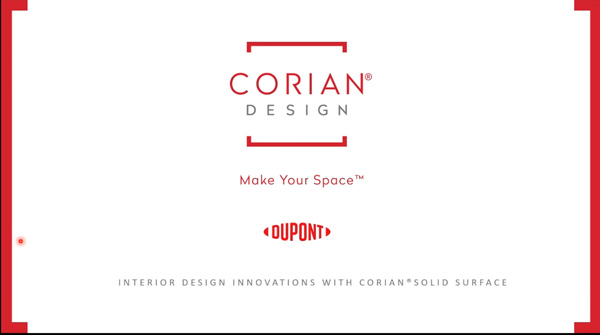 Simply enter your details into the form below to register and watch this presentation. It's completely free!
Please note: Your details will be passed onto the CPD provider.