Bona
Renovating Resilient Floors: Fast, cost-effective and sustainable solutions

If your floors could talk, imagine the stories they'd tell. From living rooms to board rooms to classrooms, life is lived on the floor.
Our century-long heritage, in partnership with professional installation experts, gives us an unparalleled perspective to bring you peace of mind – every time.
Every day, with each and every product and interaction, we promise to offer products and experiences that are innovative, sustainable, and that bring out the beauty in all types of flooring.
Presentation Details:
This CPD will focus on: Presenting a new approach to resilient floor renovation; To explain why the traditional approach (removing a worn or damaged resilient floor and replacing it with new) is not the only option;
To explain and illustrate with examples how the new recoating process works and the associated benefits in terms of time-saving, cost saving and reduced impact on the environment.
You can watch this presentation online for free. You will be sent a CPD certificate after watching the video presentation and completing the request form.
Register your details using the online form and get instant access!
This presentation is provided by Bona.
Website: www.bona.com/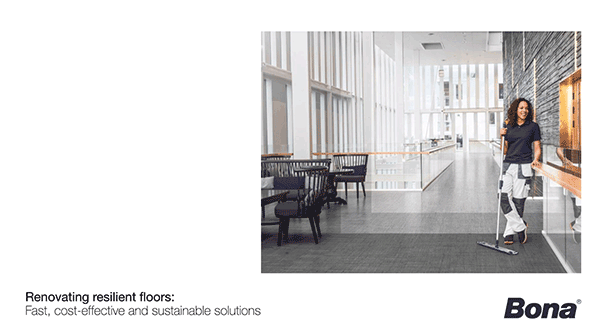 Simply enter your details into the form below to register and watch this presentation. It's completely free!
Please note: Your details will be passed onto the CPD provider.