Continuous Hinges can often be overlooked by designers and architects looking for a solution for their next project or development, but they have many attributes which are worthy of further investigation.
Originally conceived as piano hinges after their development for use on piano keyboard lids, the product has evolved over the years to meet a wide range of applications.
So, firstly its key attributes, of which there are many:
Running the full length of the lid or door, it provides a visually neat and high quality solution. On lighter engineering applications it can act as a strengthener to the enclosure, reducing any flex in the sheet metal fabrication. Fixing can be by screwing in place, riveting or welding.
On heavier applications then security becomes an added benefit. Already a visual deterrent by its full length, there is no easy way for a would be intruder to remove the hinge knuckles, hinge pin or distort the product, it is just too robust. If added security is required, then welded knuckles and a welded end to the hinge pins can provide that extra reassurance of solidarity.
So how can a continuous hinge be specified? On sheet metal fabrications the rule of thumb is to have a hinge leaf thickness of around 1.25 or 1.5 times the fabrication thickness. The hinge pin is typically 2 times the hinge leaf thickness, and the whole assembly together gives a long lasting solution.
Recognising that not all engineering requirements want a metal hinge solution, continuous hinge is now available as twin material continuous extruded polymer hinges. These are not suited to architectural doors, but can be glued, screwed, riveted and nailed in place and have excellent resistance to oils, solvents, sea water and most chemical agents.
On architectural applications, then observance of the single axis hinge standard EN 1935 is essential. CE marked Grade 14 continuous hinges for adjusted door weights up to 160 kilos is readily available with both 2.5mm and 3mm leaf options. Fire door intumescent kits are necessary where the hinges are specified for fire regulations compliance, again certification should be checked against the timber or metal door requirements to ensure compatibility. The lack of a need to rebate assists in fitting these hinges quickly although additional allowance for the closed parallel size of the hinge may be required. Fire testing has also shown that continuous hinges can reduce the risk of the door blade warping and failing owing to the distorting effect of the heat of the fire on just one side of the door.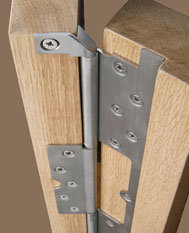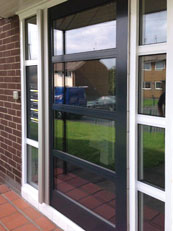 Increasingly, continuous hinges are being utilised to present a statement within a building. The interleaf continuous hinge meets this requirement by having the door hinge leaf as a number of short leaves within a full length leaf on the frame. This reduces the space required between door and frame to around 3mm, resulting in similar dimensions to those of a standard door clearance between door and jamb. The door action is enhanced by shrouded polymer bearings between the separate leaves, achieving the low newton metre opening and closing forces required of an architectural door. The long knuckle lengths give the product an aesthetically stylish and streamlined sightline. This hinge has been accepted for Community Design Registration (CDR) proving that it is a unique and innovative design.
As well as the apartment communal entrance doors, gyms, hospitals, public and mental health buildings have all benefitted for utilising continuous hinges on their doorsets. At the heaviest end of the scale, continuous hinges are utilised on doors to adjusted weights of 250 kilos and beyond, and doors where blast proof protection is required. Following the initial Grenfell Tower reports, refurbishment of many tower blocks have incorporated Phoenix continuous hinges in their updated specifications.
The entire Phoenix Continuous Hinge range covers 0.7mm to 5mm leaf thickness in steel, stainless steel, brass and aluminium, as either stock lengths or cut to length at no extra charge. Bespoke versions, special cranks and special hole patterns to suit customer requirements. Utilising continuous hinges on your next development is definitely worth a closer look.
Cooke Brothers
Tel: 01922 740011
http://www.cookebrothers.co.uk
Email: [email protected]