There is a global effort to reduce carbon consumption and the focus in Construction is greater than ever before. Entire sectors of industry are committing to reducing carbon levels with Highways England, Network Rail and the Environment Agency all aspiring to help Government to reach the Net Zero target by 2050.
Furthermore, there are movements at site level in our industries with designers, sub-contractors and our material supply chain all looking to achieve a greater level of sustainability. One example would be WSP UK Ltd, who have committed to a 50% reduction in carbon through design by 2040 with others following suit. There is also the commitment made by a number of UK contractors via Buildersdeclare.com to reduce embodied carbon through construction some 40% by 2030.
It is comforting to see such powerful names dedicating effort to reduce carbon levels, but this must also filter into the smaller end of our supply chain. Scott Parnell Ltd, a successful independent builder's merchant recognises this, and even though an SME, have dedicated time and resources to sourcing more sustainable solutions.
Over the past two years Scott Parnell have become renowned for introducing specialist products into the UK infrastructure sector. Where other countries may be the first to trial product innovations or entrepreneurs require a route to market, Scott Parnell always have a watchful eye over the potential of these products for our infrastructure sector.
Technocrete is one of these products. The brainchild of an ex-royal marine here in the UK, it is a sustainable and lightweight alternative to cement based post mix, making it an easy way to reduce concrete usage in construction. Manufactured using 85% recycled and sustainably sourced vegetable oil it reduces carbon use by over 70% compared to traditional, cementitious post mix.
The composition of the product also allows for a huge reduction in manual handling with 1.8kg of Technocrete replacing 60kg of post mix and 20 litres of water, saving our work force the musculoskeletal impact associated with traditional foundation installation. In fact, a worker can carry 11 Technocrete foundations before reaching the weight of just one bag of post mix (which is only enough for 1/3 of a concrete foundation). That's impressive!
Scott Parnell is now supplying major schemes with Technocrete, completely replacing concrete with this environmentally focused alternative.
Following the success of Technocrete and the clear desire for sites to make sustainable choices, Scott Parnell have now released FlexMSE, a vegetated retaining wall and erosion control system. This innovative product fixes small areas requiring stabilisation through to large structures of any size and shape.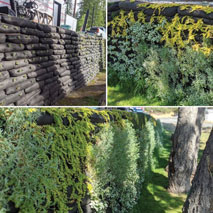 Built as fast as a temporary solution, FlexMSE offers a design life of 120 years and has a 75 year product warranty. Impressively this product also builds in 2/3 the time of traditional walls at just 60% of the cost.
The system is vegetated after installation making the structure aesthetically pleasing and allows the wall to blend seamlessly into the natural landscape and give back to the environment in which it is built. In fact, once fully vegetated the product becomes carbon negative. Thus, making it BREEAM compatible.
In the interest of biodiversity, FlexMSE can be planted with a wide range of flora or fauna which can fit with the areas in which it is built, taking into consideration any local plant life or wildlife habitats.
The combination of these products means projects can easily achieve a more sustainable outcome whilst protecting our work force, saving time and reducing costs.
Scott Parnell
Tel: 01376 502676